Recovery Massage Gun
This variant is currently sold out
"DUE TO HIGH DEMANDS PLEASE ALLOW 30 DAYS FOR THE DELIVERY OF YOUR PRODUCT."
FULL BODY RELIEF & RELAXATION – Versatile Gun Features 20 Adjustable Speed/Frequency & 8 Interchangeable Rubber Massage Head Tips for Targeting Pressure Points on Neck, Back, Calf, Leg, Shoulder, Hip & More
MULTIFUNCTIONAL MUSCLE THERAPY – Powerful Portable Percussive Massager Delivers Rapid, Concentrated Pulses to the Body's Soft Tissues for Increased Blood Flow, Fast Pain Relief, Gentle Stretching & Shortened Recovery Time
SUPER QUIET MOTOR TECHNOLOGY – Unlike Earlier Percussion Tools, Ours Delivers the Same Powerful Comfort & Relief Without Distracting Noise; Perfect for Men & Women Athletes, Bodybuilders, Runners, Swimmers & Weightlifters
OPTIMALLY SIZED FOR HOME OR GYM – Small, Compact Device Combines Every Machine Into a Single Handheld System! Replace Your Roller Ball, Kneading Shiatsu Chair, Massage Mat & Compression Massager at Once!
AWESOME CORDLESS CONVENIENCE – Stick Includes FREE Case & Quickly Recharges for Whole Body Relief Anytime, Anywhere; Great for Muscle Stiffness, Inflammation, Soreness, Range of Motion, Circulation & More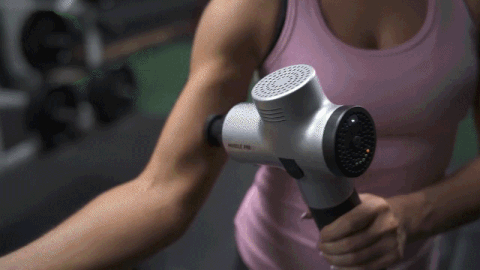 This massager tool is not only great for relieving chronic sore muscles, working out a difficult muscle knot, and workout recovery but also to relieve achy legs, back, neck and shoulder from sitting for extended periods while at work or traveling. Many customers love it to loosen up the muscles for a deeper stretch before doing yoga or pilates.